LESSENGER FAMILY
Welcome To
LESSENGER FAMILY HOMEPAGE
PURPOSE OF THIS PAGE:
When I was on vacation I visited one of my Aunts and she received an old trunk from her grandfather. In the old trunk there was an old photo album, from what I remember it was red and black and made out of velvet. In the album there were about 37 photos that I remember and I believe the photos were taken some where around 1902. The only photo that was marked was a photo where a young child age around 2 1/2 was laying in a coffin. The photo was identified by an obituary news paper article. See below: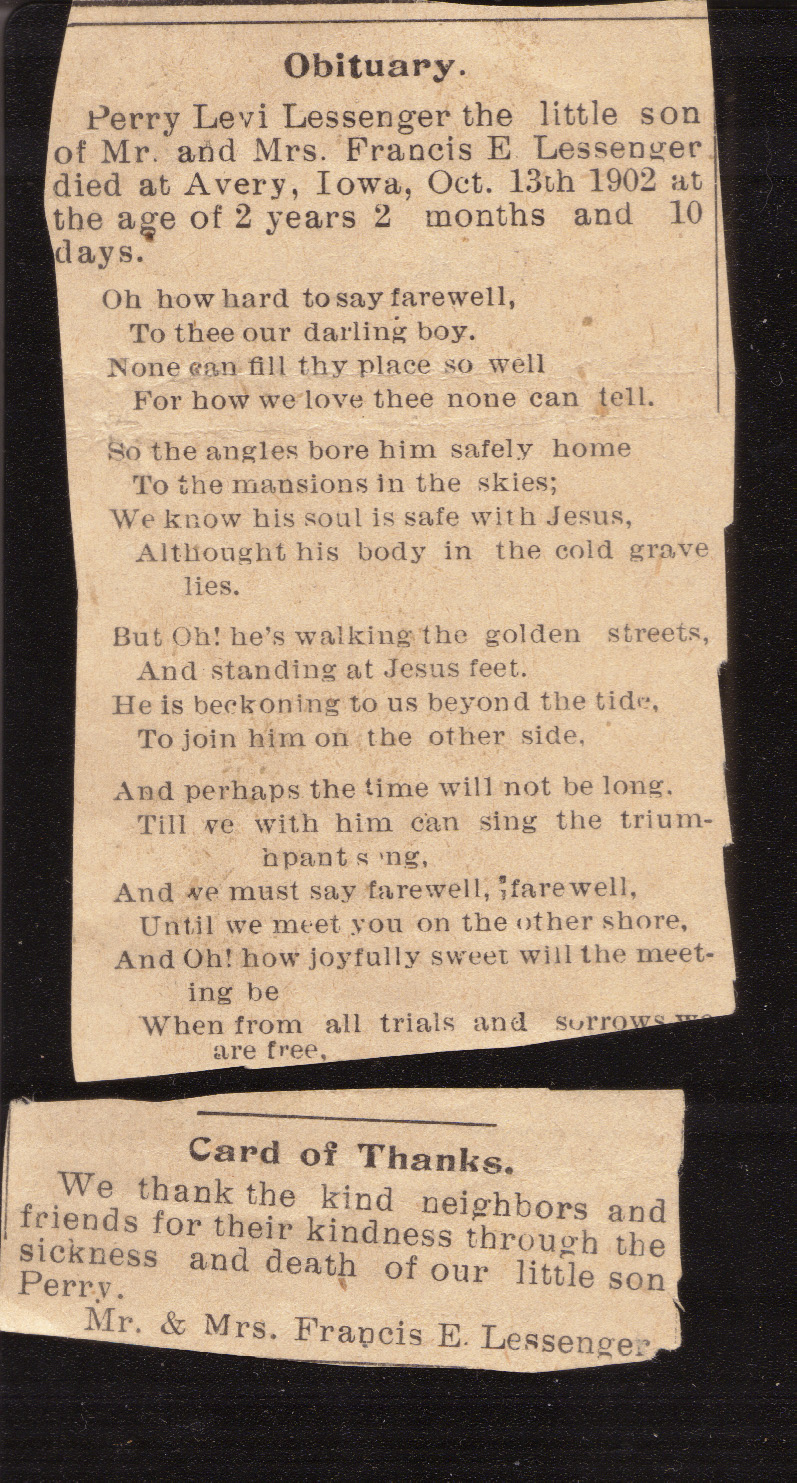 None of the other photographs were identified any any way.


I am hopeing that through this webpage, other individuals in this photo album may be identified. If you are a Lessenger and if you can identify any of these individuals Please E-MAIL me and let me know who any of these individuals may be. My E-MAIL address is: dsalisbury@si.rr.com Each photo will be marked by a NUMBER i.e. 1, 2, 3, 4, etc!


SO PLEASE HELP ME TO IDENTIFY THE ABOVE POSTED INDIVIDUALS!

Every couple of weeks I will be putting up new photos to be identified!

Another problem that I have is trying to figure out why my Great Grandfather had this Lessenger photo album in his trunk? As my great grandfather was a Gabb and my great grandmother was a Gray! I cannot find any link between them and the Lessenger family. So if any of you know of a link please let me know as well.

Questions & Comments? Emaildsalisbury@si.rr.com
Copyright © 1999. All Rights Reserved. All referenced brand and product names are trademarks, registered trademarks or service marks of their respective holders.